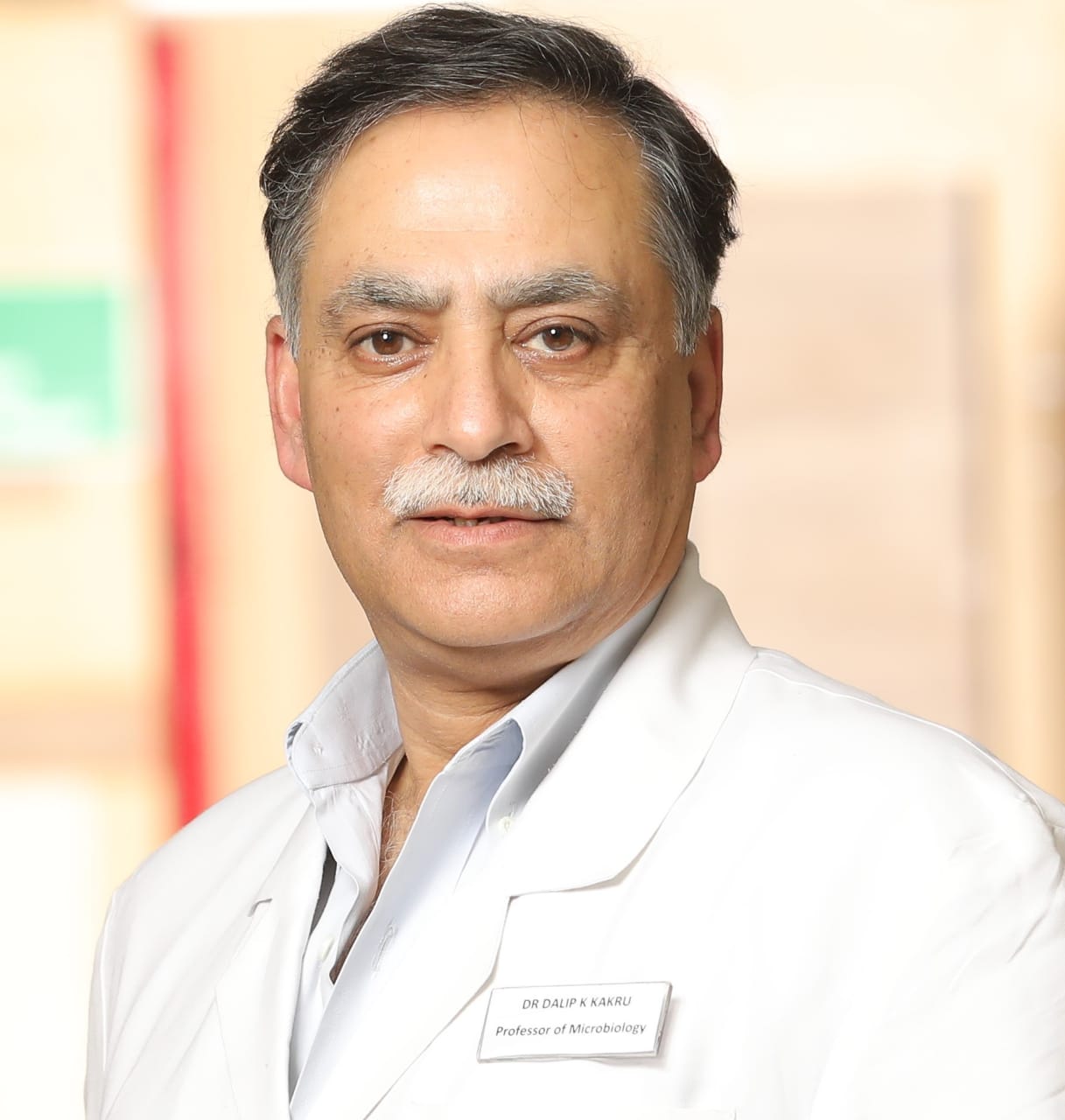 Dr. Dalip Kumar Kakru
Professor and HOD, Microbiology
4.5 out of 5
Patient Satisfaction Ratings
| | |
| --- | --- |
| Department | Microbiology |
| Languange | English ,Hindi |
| Designation | Professor and HOD |
About
Medical graduate from Govt. Medical College, Srinagar, University of Kashmir, & post graduate from SKIMS deemed university, J&K. Formerly professor & head of Microbiology, Sher-i-Kashmir Institute of Medical Sciences, & Principal of College of Paramedical Sciences, SKIMS, Srinagar.
Has handled scientific projects funded by national & international agencies like ICMR/DHR, NCDC, MOH & FW-GOI, & CDC-USA on Leptospirosis, tuberculosis, MRSA, Hepatitis, Viral hemorrhagic Fevers, Rubella syndrome, Antimicrobial stewardship, Creating laboratory network for enhancing diagnostic capabilities for surveillance, outbreaks and epidemics investigations of high-risk group of viral pathogens, Capacity Building and Strengthening of Hospital Infection Control.
Has held positions of Vice-chairman Hospital infection Control SKIMS; Convener - committee for antibiotic policy, J & K state; Member Expert Working Group (EWG) on National Programme on Surveillance of viral Hepatitis; PI / Nodal officer State Viral Research & Diagnostic laboratory (ICMR/DHR);
PI CDC project - Viral Hemorrhagic Fever (VHF) Network.
Is a Member of editorial boards of various journals / Review Committees of national & International journals of repute.
Has been guide to more than fifty students in MD/MS, PhD & post graduate dissertations. Is a post-graduate guide for last twenty years & visited various universities as external expert.
Has more than fifty publications in journals of repute,& also contributed as author for National guidelines for viral Hepatitis.
Post graduate from SKIMS deemed university, J&K.
Medical graduate from Govt. Medical College, Srinagar, University of Kashmir,