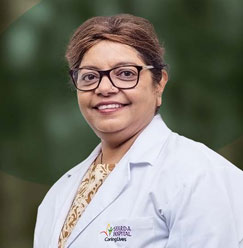 Dr. Aarti Srivastava
Professor and HOD, Intitute of Anesthesiology
4.0 out of 5
Patient Satisfaction Ratings
| | |
| --- | --- |
| Department | Intitute of Anesthesiology |
| Languange | English ,Hindi |
| Designation | Professor and HOD |
| Specialization | Anesthesia and Critical Care |
About
Dr. Aarti Srivastava is working as the Head of Department at the Anesthesiology, Pain Clinic and Critical Care at Sharda Hospital for the past 7 years and 3 months. She has a combined experience of 15 years. A dedicated and committed professional who strives to achieve excellence in every case she takes up, Dr. Aarti believes patient care is of utmost importance. Her skill sets include providing safe general anesthesia, regional anesthesia, and interventional pain management procedures.
Dr. Aarti is an Advanced Cardiac Life Support (ACLS) trained professional and also provides BLS and ACLS training to the staff and students. She holds expertise in ultrasound-guided regional blocks which include brachial plexus, auxiliary blocks, stellate ganglion blocks and epidural blocks.
Her passion for teaching keeps her up-to-date as she imparts knowledge to postgraduate, undergraduate, physiotherapy and nursing students.